Set the standard for cleaning & sealing service
We wrote an article in the August/September edition of the Hardscape Magazine on "setting the standard" for cleaning and sealing services.  Are you setting the "gold standard" in your business?  You can click HERE to read the article on the magazine's site, as well as subscribe to receive the digital edition.  The text is copied below for your convenience.
By David Warren, President, Black Diamond Coatings, Inc.
I started sealing pavers as a contractor more than 10 years ago. Not having any resources to turn to back then, we learned from our mistakes. In those early days, we occasionally had upset customers because we failed to take the time to communicate and set expectations or to establish client responsibilities. Or, we failed to take the time to properly prepare the surface prior to the sealer application.After sealing over 4 million square feet of pavers, we learned what worked well and what didn't. We were able to raise the bar and set the standard in our area for current and future paver restoration companies to follow.
Following these tips from what we learned will help you be known in the industry and your geographic area as the best of the best when it comes to sealer application. There are a few key pointers that can help you ensure a quality job and a glowing referral that leads to future work:
Set customer expectations through education
Surface preparation
Application techniques
Set customer expectations through education
The customer is looking to you, the contractor, as the professional for your knowledge and guidance. Setting expectations is key to the success of your job and for future business. Further, your knowledge and helpful information will help set your company above the competition.
First, understand the client's needs by asking questions and listening carefully to their responses.
What areas need cleaning and sealing? Capture this information in the appointment phone call so that when you visit, your measurements and estimate will be accurate.
Do they have any areas of concern? For example, do they have little kids or other concerns about falling on the pool deck? If so, you may want to offer a different product or include a texture additive in the sealer. At minimum, you want to take the time to explain the products you're recommending for the job so that the customer understands the benefits.
What "look and sheen" do they prefer on their surface? For example, do they prefer a natural finish or a shiny finish?
Ask the customer about their performance expectations of the sealer (e.g., will it stop weeds and ants?). Respond accordingly based on the product you're using.
Educate the client on the expected longevity of the recommended sealer, and when you will need to re-seal.
Explain what weather conditions could delay the service date. Explain the communication process they should expect from you, "We'll call you the day before to confirm your appointment." Also, explain conditions following the sealing that might impact the sealer (e.g., rain within a short time after sealing; fresh asphalt and dirt on tires that could create marks).
Ensure the customer understands their responsibilities in the process (e.g., how long to keep cars off, turn off sprinklers, reschedule lawn services/pool service, lower pool water if sealing coping).
Explain how to maintain the newly sealed surface, including the recommended cleaning products, and what not to use.
The more information you can give to the client initially, the smoother your sealer jobs will go and the happier your clients will be. Good communication to the homeowner about the post-sealing steps can significantly reduce if not completely eliminate call-backs, saving you time and money.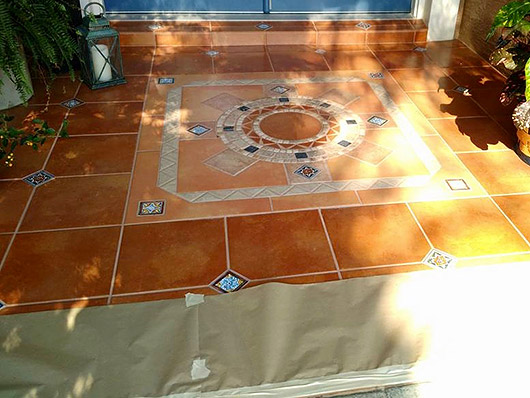 Surface preparation
Applying sealer over oil, mold, dirt, pollen, salt residue and old sealer can severely compromise the entire job. Make a thorough cleaning an integral part of the sealing process. Even newly installed pavers generally will have chalk or pencil marks, and dust from cutting. All of these can impede sealer penetration causing premature failure. They need to be removed.
Paying attention to the details in prepping the surface for sealing can mean the difference between a great job and a complete disaster. Water features, lighting, pools, outdoor kitchen elements, and numerous other features can be harmed by sealer. They need to be protected.
It takes much less time to protect an area from sealer overspray than it takes to strip sealer from that area. In some cases it is impossible to remove the sealer from stucco exteriors and other porous surfaces.
Tape off lighting to protect it from sealer. For larger surfaces, tape off the area with paper wide enough to shield overspray. Use good painters' tape that has an adhesive that won't get cooked onto the surface by the sun.
Clients take notice when you treat the property like it was your own and take the extra time to properly prepare the surface prior to sealer application.
Application techniques
How you apply a sealer is also important. Finding a sprayer that fits your needs is one key. You may find that you need more than 1 type of sprayer depending on conditions and surface. While there are many good sprayers available, 2 that I've found effective are the Chapin Industrial Viton Concrete 1949 Sprayer (pump style sprayer) and the Hudson NeverPump® Bak-Pak® Sprayer (battery operated backpack style).
There are some areas where using a sprayer of any kind is not a good idea. Use a roller or brush in tight areas or in areas where taping would be impractical or ineffective such as pool copings, outdoor kitchen areas or sensitive landscaping areas.
To ensure a uniform sealed finish, be sure to apply the sealer in the same thickness in sections sealed with a roller or brush and in sections sealed with a sprayer. When spraying a sealer next to walls, use a helper to hold a paint edger against the wall to protect it from overspray.
The extra time it takes to roll/brush sealer is nothing compared to the time it can take to remove oversprayed sealer from an unintended area. We have heard about more than one instance of an exterior wall or garage door that was inadvertently sealed and that needed to be stripped and re-stained.
Before cleaning and sealing you will want to mark the pavement area off limits. A good way to do this is to use caution tape. It can be very frustrating for both you and the homeowner if someone drives on the surface before it's dry.
If the neighborhood doesn't have a sign restriction, it can also be a nice advertising opportunity for you to leave a small yard sign indicating that your company did the beautiful sealing and/or installation job.
We hope these tips help you learn from our experiences and shorten your learning curve. Use them to fine tune your own cleaning and sealing service. Make your company the one that sets the gold standard for paver restoration in your area.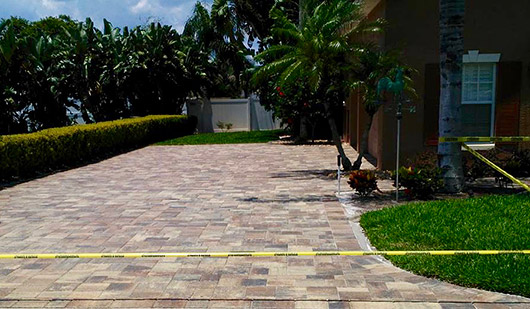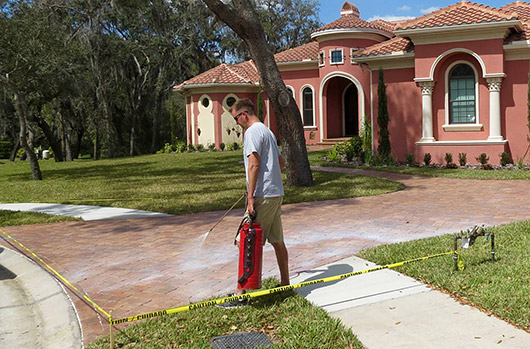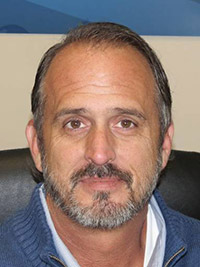 David Warren
David Warren is President of Black Diamond Coatings, Inc., a national producer of environmentally-friendly, low VOC sealers for concrete, pavers, stone and wood. Prior to founding Black Diamond Coatings, David built a successful paver restoration company in Tampa, FL. Black Diamond Coatings is 1 of only 5 sealer companies to have sealers USDA certified as bio-based (primarily plant-based) rather than petroleum based. Call (800) 270-4050 or visit BlackDiamondCoatings.com.
Have questions? Contact our support for help.